Your home is your place of relaxation, and it should be maintained like that. It's important to keep your apartment comfortable so you can enjoy your time with family and loved ones. But did you know that you can have a modern apartment décor without spending too much money?
Cheap apartment decorations have a relaxing effect, and all you need to do is know where to find them. Let's look at some ideas that you can apply for a great and cheap apartment décor!
1. Decorate Your Bed with a Lovely Curtain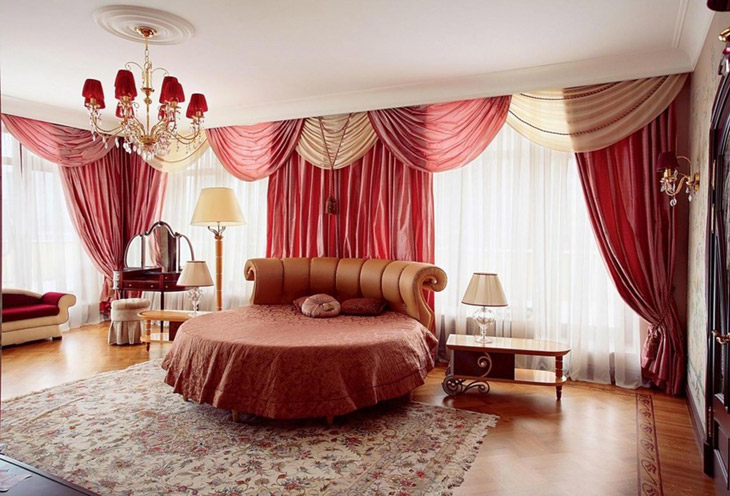 Your bed's comfort is very important for your well-being. It needs to relax you and help you rest so you can continue your daily life successfully. And relaxation is crucial for a high yield. By simply adding a nice curtain around your bed, you will feel different in a better way.
The right curtain will add a new level of intimacy, so much needed to enjoy your resting time. Also, you can let your window open on those summer days to enjoy a breeze running through your bed curtains.
2. Use Your TV as A Separator
You are probably used to have your TV placed on a shelf or against the wall. But there are so many other ways to take advantage of your TV! If you live in a small apartment, you can use your TV as a space separator. It will delimitate your sleeping area from your entertaining area in a very pleasant way!
Simply place your TV on a table used as a fake separator and decorate the two sides of the room differently. By applying this simple trick, you will create the illusion of living in a two room's apartment without spending any money!
3. Use a Couch That Can Be Converted Into a Bed
Beds can take a lot of space, and this is a problem especially if you live in a small apartment. You might have little space in your room if you choose to have your bed placed in the middle of it. But you can always replace the classic bed with a foldout couch! It will be cheaper and more functional for some apartments.
You can find high-quality coaches at low prices and enjoy the same comfort that you would enjoy by using a bed. Having a couch instead of bed is one of the first apartment ideas that you can consider.
4. Put Your Bed on Wheels
It is also an original idea to ease your comfort. Putting your bed on wheels can improve your life significantly! You can move it around the room if you want to redecorate, easily and more effectively.
Furthermore, if you put your bed on wheels, you can make more space for guests and parties! You will need to buy special wheels from decoration stores and place them under your bed. It shouldn't be hard as long as you follow the instructions that they come with.
However, you need some help to lift the bed and slide the wheels underneath it. But at the end, it will all be worth it! Additionally, your friends will be impressed by your idea and maybe adopt it as well.
5. Accommodate Your Apartment for Your Pet
Pets make our lives better, and we should return that favor if we can. For instance, in Japan, a cat-friendly house is very popular. You can create open air cat walks, climbing steps and cat doors. All you need is wood or other material, and a miter saw. Also, how to use a miter saw will come in handy if you aim to build a cat-friendly house.
You can also build special fences that will prevent your pets from accessing certain areas of the apartment or escaping. Use your imagination and skills and make your best fur friend happy with little investment!
6. Use Natural Material like Wood to Craft Your Furniture
When you are trying to save some money, crafting your furniture is a great solution. You will need special tools for a miter saw and wood as well as other materials. But the costs will not even get close to the prices that you will see in the stores for already built furniture pieces!
Buying the best table saw or the best miter saw is also important before you get to the crafting phase. It will be helpful to consult a table saw buying guide before investing in one, so you will be informed. Your next step will be learning how to use a table saw to obtain the furniture pieces that you want.
It can be challenging at first, but once you get used to it, you will be able to build almost everything you want! From customized tables to decorative pieces, nothing will be too hard once you become familiar with woodworking projects.
7. Have a Relaxation Corner
Having a relaxation corner in your apartment is more important than you might imagine. And you can be creative when you organize such a corner. Simply place your favorite armchair or pillow in a place of your choice and surround it with your favorite objects. Maybe you have a favorite light that you want there.
Or even a favorite book that you want to keep handy or some magazines to read. All these small details will create your magic corner in no time. Also, try using your special relaxation corner for just the purpose you created it for.
Never work there and never have heavy conversations in that place. Otherwise, you will damage its value, and it will not be so relaxing after all.
8. Use Pastel Colours for Small Spaces
You can easily paint your own walls nowadays. The stores offer you all you need to do so and the costs are very low. Simply buy the colour of paint that you want and follow the instructions that come with it. There is a trick though: use pastel colours for small spaces. If your bedroom or living rooms are rather small, don't use dark shades of paint.
This would make your space seem even smaller and you will have the impression of living in a box! No one wants that! So, try a light shade of blue, yellow or pink to enrich your walls. You will be surprised by the outcome!
9. Make Hidden Drawers
Hidden drawers are a great way to use extra space for storage. Did you ever wonder what can you do with that space under your bed? Placing some hidden drawers there might be a great idea. You can store your bed sheets or other objects in there and not take space in your closet for it.
To build a hidden drawer all you need is wood and some tools like a miter saw or a table saw to work with. Take your measurements right and start cutting the word according to them. Some nails and a hammer will be useful to connect the different wood pieces and create your very first drawer.
You can use your imagination and decorate the drawer in a creative way to not even look like one! Such drawers can be placed in different areas of your apartment, where you have unused spaces. And they are very functional!
10. Use a Furniture Shelf Instead Of a Desk
Do you have some furniture shelves in your house that just stay empty? And you also have a big desk that takes up an entire corner of your small room? Try placing your laptop and folders on one of the furniture shelves!
You can use a comfortable pillow instead of a chair to work at it just like you would work at your desk. Only that it will air out your room a lot and bring you some extra space! Minimalistic furniture pieces are very friendly when it comes to accommodating needs like these ones!
11. Hidden Dishwasher or Washing Machine
You can make your kitchen even more pretty by hiding the dishwasher and washing machine. And you can hide it by using a creative mask made of wood. You craft the mask and place it in front of the dishwasher or the washing machine. Crafting such a mask is easy and fun if you have the right tools such as a saw and a piece of wood. You can use paint to decorate it how you want to blend in with your kitchen décor style. And you can have a great time arranging such decorating piece!
12. Decorate Your Bathroom Simple and Efficient
Your bathroom can be simple or fancy, and by fancy it doesn't mean spending a lot of money. One of the most popular apartment bathroom décor ideas is the double mirror one. You simply place a smaller mirror on top of a bigger one to create the illusion of a fancy frame. This will add an interesting effect to your bathroom in a cheap way!
13. Respect the Feng Shui Rules
Taking into consideration the basic Feng Shui rules can only bring new benefits to your life. And you don't have to spend any money to apply them! One of the main Feng Shui rules says that you should get rid of all the things that you don't use. All those objects that just occupy space in your apartment shouldn't be there at all if they are not functional.
Using appropriate colours for your different rooms is also very important. The bedroom should have some shades of red to increase passionate energy and your living room should have pale shades. And don't make Feng Shui changes all at once. Take it step by step and be aware of every small change you make.
14. Use Boxes to Store Your Things
Storing things can be a problem if you live in a small apartment. But how about you don't use drawers or shelves for it and use boxes instead? First advantage of using boxes is that they are easy to move around.
Also, you can purchase cheap boxes that you can later decorate according to your taste. And you can store the boxes in any free space without having them intervening with your harmony. The boxes idea comes from Asian design styles and it is adopted by many other cultures nowadays.
15. Make a Special Closet for Toys
If you have children, toys can be all over the place and that is not pretty. But when you put them away, you don't have to take space off your closet or drawers to store them. You can place them in a special closet made for toys! Such closets are usually built in the walls and they don't take any space at all. You can set them up in your child's room and enjoy some peace of mind when the pay time is over!
16. Build a Foldout Table
Building a foldout table is easy and very cheap. You will need wood material and a table saw or a miter saw to shape it the way you want. Simply choose a wall that will support the table and take your measurements. If you are familiar with woodwork you will not find this very difficult. But even for beginners it is not a very difficult job to do.
If you have the right tools and a good imagination, you can end up with a great table. And the main quality of it is that you can open it only when you use it. Otherwise, it can stay closed and not take any extra space at all.
17. Use Giant Pillows Instead Of Chairs
Using giant pillows instead of chairs is not just functional but very modern as well. Many minimalists prefer giant pillows when they have guests. They can be put away as soon as they are not needed anymore and not take extra space in the room. Also, you can choose them to match your general décor and add a stylish look to your apartment.
18. Use Your Vertical Space by Building a Clothing Rack
If you are a practical person, you will love this tip. That extra space below your ceiling can be used for many things. One of the most popular ideas is hanging a clothing rack that can slide from your ceiling. That way you will not need an actual closet, and you will be happy to access your clothes easily.
You can build a vertical clothing rack by simply adding a pole to your ceiling and hanging your clothes on it. According to your needs, more poles can be changed and you will have a vertical closet for your entire wardrobe.
19. Place Your Sofa against the Bed
Placing your sofa against the bed is a great way to delimitate space as well. If you have one room for different purposes, simply delimitate using this idea. If you place your bed and sofa back to back, you will create the illusion of two different environments. Add different decorations as well, on each side of the room and enjoy your multifunctional apartment!
20. Transform Your Bedroom into a Theatre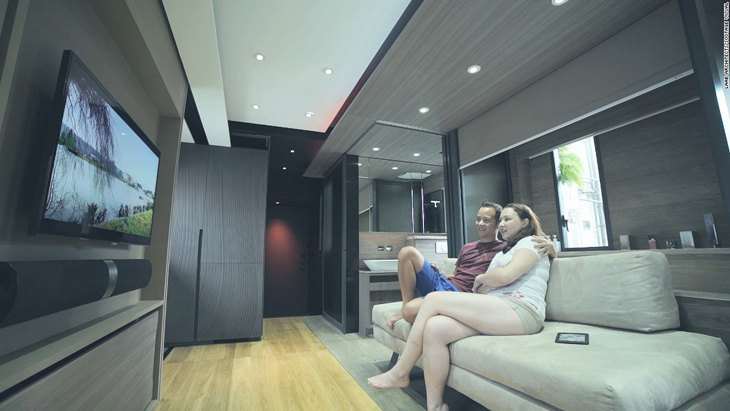 This is a great idea if you like to watch movies in the comfort of your home. You can cover one of the windows and use a video projector to obtain a huge screen. Choose the window that is most appropriate according to the position of your sofa or bed. After you cover it with a dark textile material, project your movie and grab your popcorn! Your friends will be happy to join you as well.
Most of these ideas can be done with low investment and even free. Once you have the materials and tools you need, the rest is a learning process that you will overcome easily. All you will need other than the basics are power and hand tools to work with and your home is almost done! To the ideas above you can add the best wireless camera systems to keep your apartment safe.
That way you will always know what goes on inside of it when you are not there. Wireless camera systems are not expensive, and they are very discreet, so they are a great investment for your safety! If you are satisfied with this post, just share it with your friends and comment us.